Advents-Countdown #7
Ein kurzer Post bevor die Küche wieder ruft …
Heute habe ich ein winterliches LO für euch. Nicht unbedingt mit den typischen Winter/Weihnachtspapieren, aber für mich trotzdem winterlich.
Just a quick post ebfore I have to go back to the kitchen … Today I have a wintery layout for you, even though it's not worked with the typicall winter/christmas papers.

Die kleine Tüte hing mal an irgendeinem Kleidungsstück mit Ersatzknöpfen. Mit etwas Kunstschnee gefüllt wird sie jetzt zum Blickfang.
The small bag is filled with artificial snow and turns out as an eyecatcher.


Die Schneeflocken sind aus Vellum ausgestanzt, mit einem glue dot befestigt und mit einem Rhinestone verziert. Ich mag den durchschimmernden Effekt ganz gerne.
The snowflakes are punched out of vellum, fixed with a glue dot and decorated with a rhinestone. I like that gleaming effect.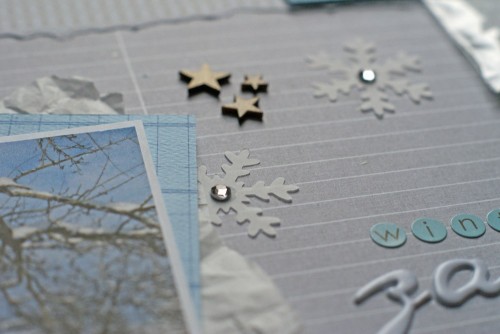 Ich hoffe euch gefällt mein neuestes Layout. Morgen zeig ich euch dann das versprochene Tutorial.
I hope you like my newest layout. Tomorrow I will show you the promised tutorial.
Liebe Grüße,
Nicole
Materialangaben:
PP (Sodalicious, Scrapperin, Restekiste), CS (Bazzill), Butterbrotpapier, Vellum, kleine Tüte, Kunstschnee, Bakers Twine (Garn&Mehr), Stanzer (Kars), Holzsterne, Rhinestones (Kars), Farbe (Mr. Huey's – Opaque White / Honor Society), Alphas (AC- Dear Lizzy, Authentic)
3 Kommentare zu "Advents-Countdown #7"