Scrapperin >>> Inspiration
Ich habe heute eine Deko-Inspiration für euch … einen Fotowürfel. Ihr könnt entweder Fotos von eurer Familie drauf plazieren, von einem besonders schönen Urlaub oder – wie ich auch – von eurer Hochzeit. Den Würfel hab ich mir selber aus Graupappe gebaut. Wichtig hierbei ist genaues Arbeiten, da ihr Kante auf Kante kleben müsst und später dann ja alles passen soll. Ihr braucht jeweils 2 Stück Graupappe mit 2mm Stärke in den Größen 12,5×12,5cm, 12,5×12,1cm und 12,1×12,1cm. Als der Würfel zusammengeklebt und getrocknet war, hab ich ihn mit weißer Acrylfarbe komplett eingepinselt. Im zweiten Schritt hab ich dann etwas Mr. Huey's zu der weißen Acrylfarbe gemischt und vor allem die Ränder nochmal farblich verstärkt. Um dem Ganzen dann noch einen besonderen Effekt zu verleihen, hab ich mit dem Finger und Inka Gold Schimmerpaste an manchen Stellen noch drüber gewischt.
Today I have a inspiration for home deco for you … a cube with photos. You can place photos of your family on it, from a great vacation or – like me – some of you wedding pictures. I did this cube by myself out of paperboard. It's important to work exactly, you need to glue edge to edge and everything needs to fit afterwards. You need 2 pieces each of 2mm paperboard 12,5×12,5cm, 12,5×12,1cm and 12,1×12,1cm. When my cube was done I coloured it with white acrylic paint. In step two I mixed some Mr. Huey's to my acrylic paint and painted the edges. To add some shimmer to my cube I took my finger and some Inka Gold paste and went through some spots of my cube.


Wenn alles trocken ist, könnt ihr anfangen zu dekorieren und eurer Kreativität freien Lauf lassen. Ich wünsch ich viel Spaß beim Ausprobieren.
When everything is dry you can start decorating and let your creativity flow. Have fun with this.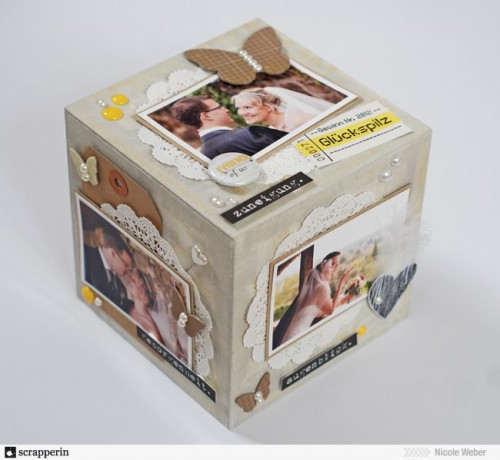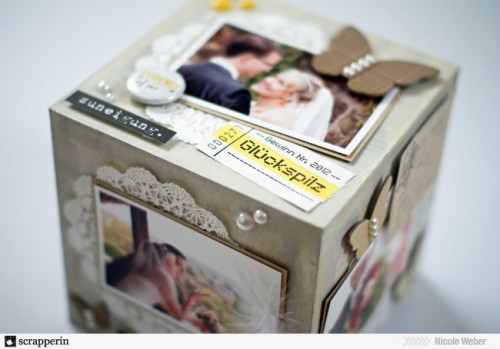 Liebe Grüße,
Nicole
Materialangaben:
Graupappe 2mm, Acrylfarbe, Mr. Huey's – Pinstripe, Viva – Inka Gold, SBW – Doilies, Schmetterlinge – Maya Road, Halbperlen weiß, MME – Enamel Dots, Stempel – Scrapperin "Form & Feder", Knorr Prandell – Feder, Tag – Ranger, Button – Evalicious, SBW – Journaling Cards, SBW – Wertmarken
4 Kommentare zu "Scrapperin >>> Inspiration"